Author/Singer-Songwriter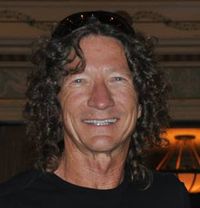 Coming October 2, 2023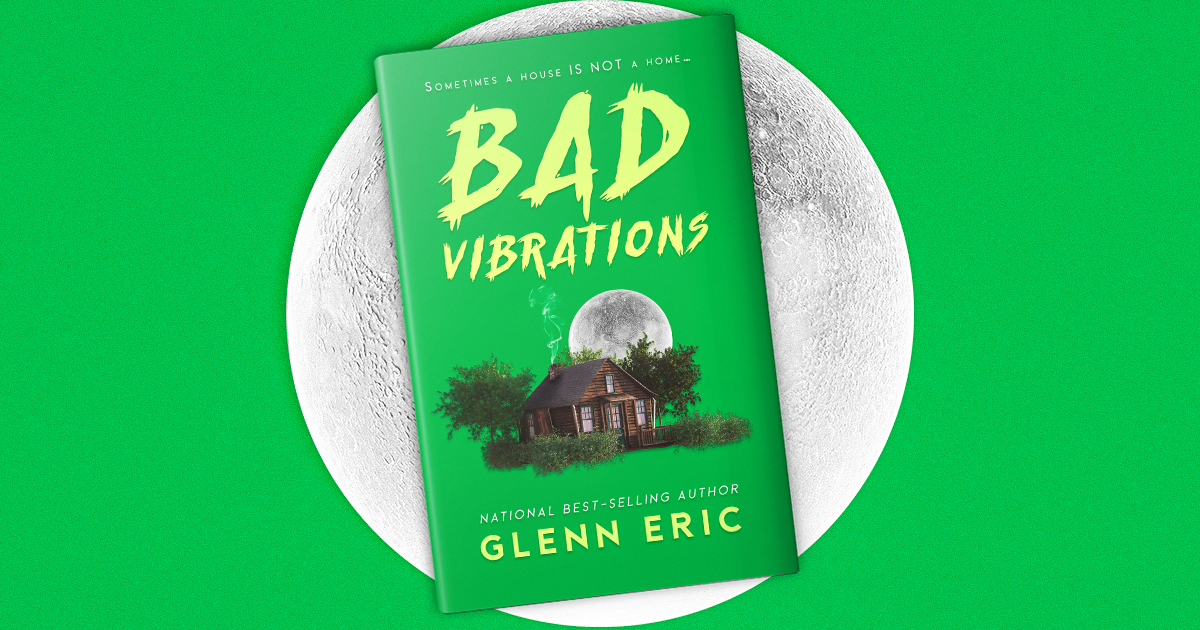 Sometimes a house IS NOT a home.
Inspired by real events, in this gripping novel of suspense, a struggling midlist romance writer and his frustrated-sculptor wife leave NYC for the North Carolina mountains. Desperate to complete his latest novel, Arlo and Joanna Priestley take his literary agent's advice and pack up for the mountains. Their temporary home is the empty cabin belonging to Colm Finn, a successful and reclusive romance author. While Arlo attempts to write and Joanna attempts to sculpt, the spirit-haunted land has other plans. So do other people. And those plans do not bode well for the pair… In the tradition of Burnt Offerings and The Other.
Coming November 7, 2023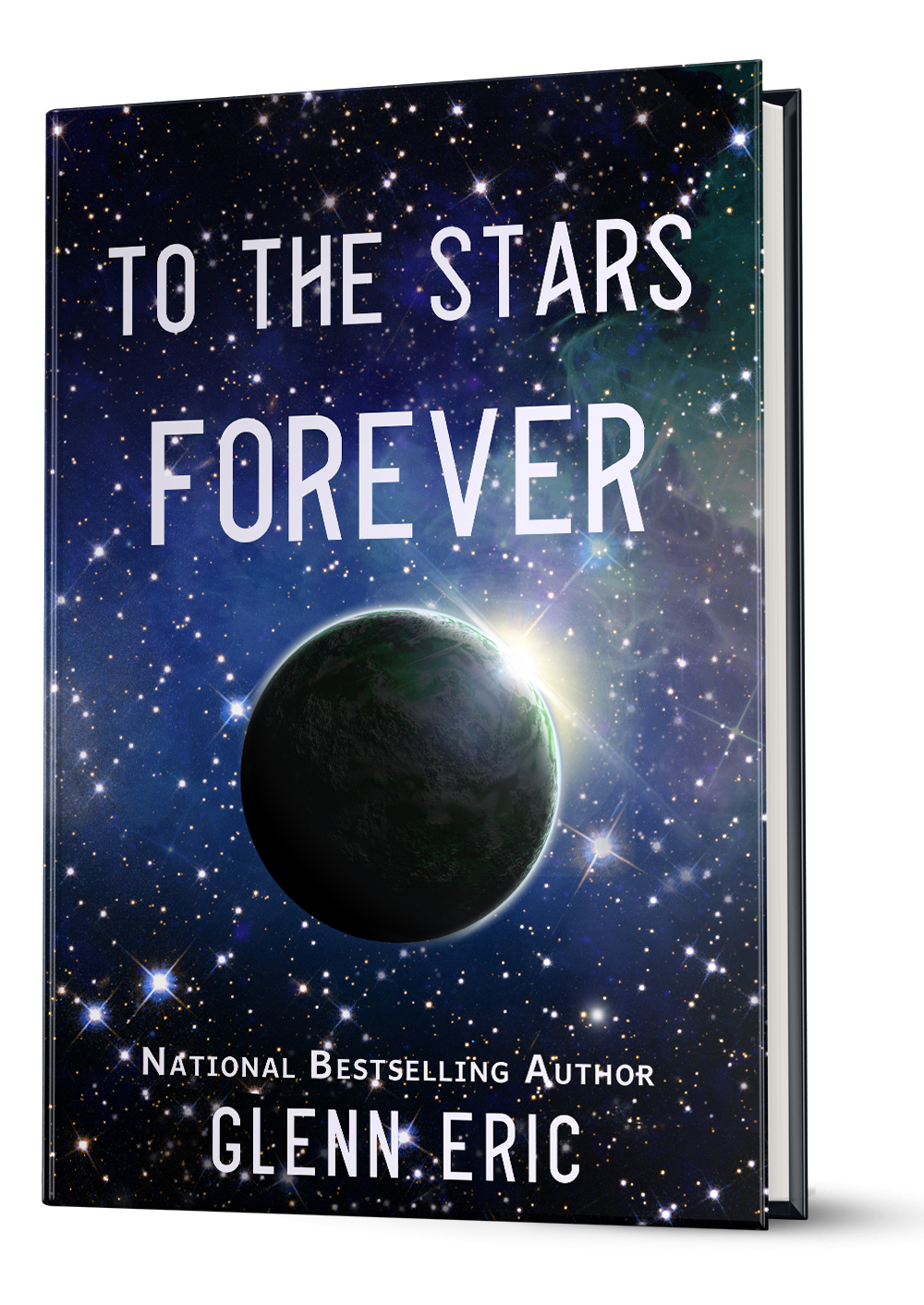 An old-fashioned adventure of the future... It's a not-so-brave new world. Corporations rule humanity. The world is a bleak and unkind place. But then the Mitoc, powerful aliens from the distant reaches of the universe, came and things got worse. Humans found themselves unable to resist the Mitoc's call. Like sheep, they climbed aboard the vast alien spaceships, to be shipped off to the stars to fight the alien race's war for them. To die for them.
Because millions of years ago, the Mitoc seeded Earth and a million other worlds. Programming the human species' genetic code so when the time came, humans would have no choice but to obey them. All so that when the time was right and the creatures the Mitoc engineered were advanced enough, they would come scoop them up by the millions to fight and die for them in their timeless battle with their own relentless enemy.
This is the story of one small group of genetic defectives who, although immune to the Mitoc's call, find themselves aboard a Mitoc ship. They are dropped on a planet in a far away galaxy to fight an enemy they never knew existed and a war they care nothing about.
Coming December 6, 2023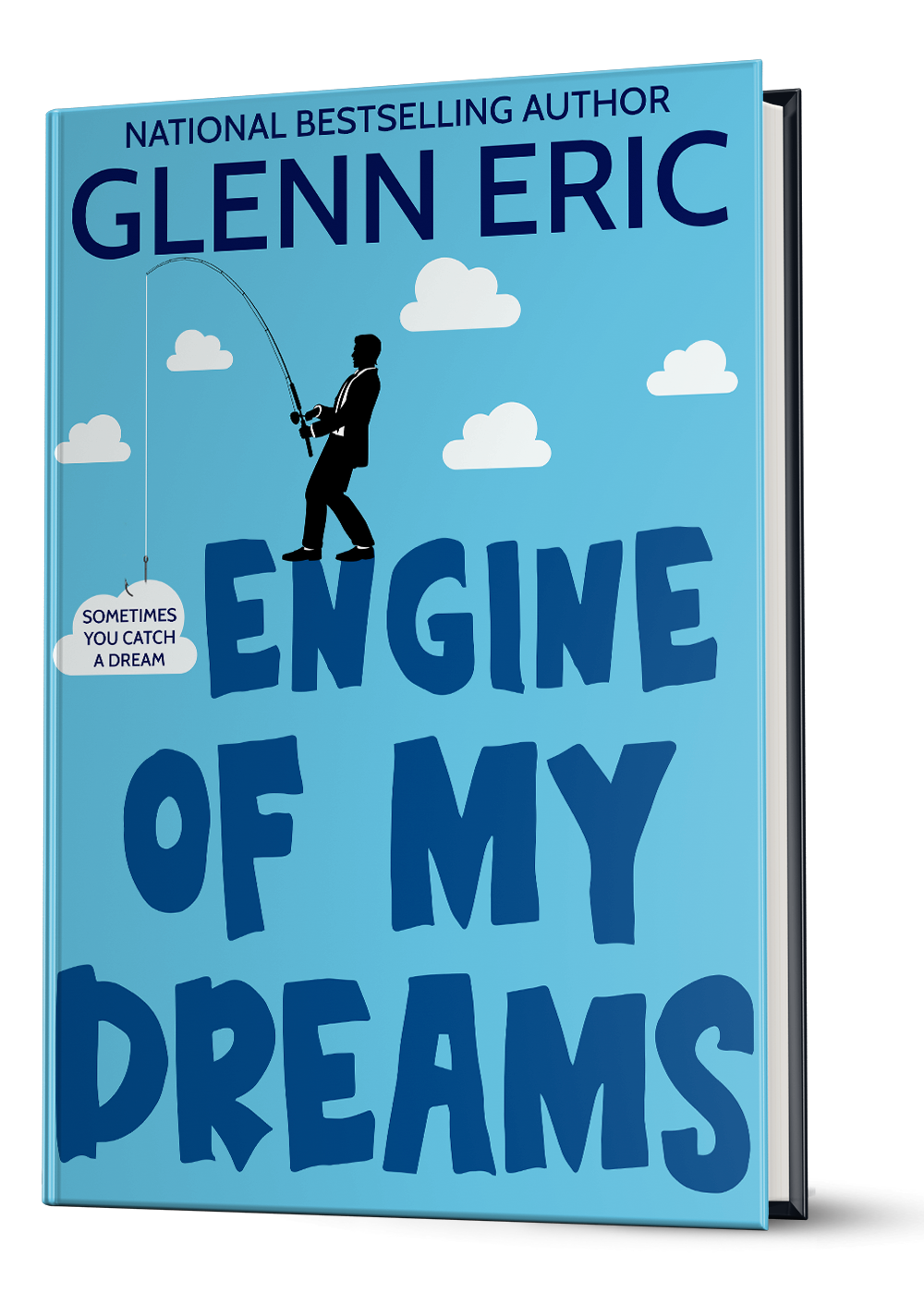 Quirky and uncompromisingly inventive and unique, Glenn Eric's Engine Of My Dreams is a swim through time, the multiverse, consciousness, and the very meaning of existence.
Weaving disparate narratives, regardless of the so-called continuum of time and space, Glenn Eric takes readers on a one-of-a-kind journey that includes Albert Einstein living in the photodimension, a story-telling Alexander Dumas, mermaids, the Afterlife, the power of music, a cosmos in which no one ever dies and nothing ever truly ends, and the simple heartfelt journey of a young man as he copes with life and death as he knows it.
So grab a seat and get ready for a ride on the Engine Of My Dreams, a wildly unique novel filled with Glenn Eric's unique humor, pathos, and imagination.
Recent Releases:
Sometimes, if you want to have it all, you have to let it all go.

Orville and Wilbur Wright came to the North Carolina coast for the strong, steady winds. Daniel Cross has come for something almost as intangible. He comes seeking a new place that he and Noah can call home. Someplace with a future and not a past. Uprooting the two of them from Boston had been a sudden decision—based on nothing more than Daniel's perception that Noah was growing more withdrawn and he blamed that on Boston. Perhaps that decision had been a rash one. Now, he is determined to make the best of it.

Samantha Rivers works with her father at Rivers Motorcycle Sales & Service. Is she happy? Maybe not, but she is satisfied and wants only for things to stay the same. When Daniel Cross shows up and buys a junk motorcycle, she thinks he's crazy. And annoying. The feeling is mutual. But then something changes and the small act of buying and rebuilding a motorcycle becomes the catalyst that draws them closer while tearing them apart and putting them back together again too.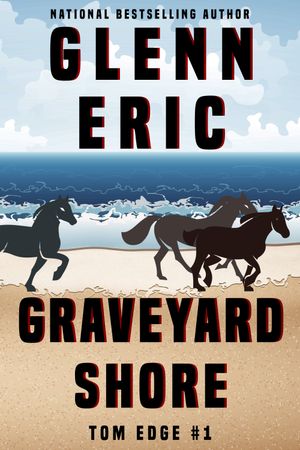 As his on-again/off-again girlfriend likes to say, Tom Edge has moved from one graveyard to another- from the Graveyard of the Pacific as a US Coast Guard Intelligence Service officer, to the Graveyard of the Atlantic as sheriff. He's traded a long and storied career with the USCG IS for the life of a sheriff in a coastal North Carolina county that's half underwater, with a population that grows exponentially during the Outer Banks tourist season, and boasts a beach for a highway. The protected-by-law wild horses living in the dunes and trotting up and down that road with immunity have been here since the time of the Spanish Conquistadores. Edge has been here only a year or two and already it seems like a lifetime.

Tom Edge is used to things washing up on the beach. Everything from driftwood, to trash, to seaweed, to flotsam from the countless ships washed up on county shores. There's even the unfortunate drowning now and again. So he's not terribly surprised to hear that a dead body has landed on his beach. But this corpse turns out to have been the victim of foul play. That changes everything. The victim was a motel manager with a sketchy past, including a history of a minor run in or two with the law, and a not-so-grieving widow. Altogether a fairly unremarkable man. Except for his death.

Edge's team includes a by-the-book second-in-command, a sharp and foul-mouthed captain who thinks she can manhandle the world into submission, and a French-speaking assistant who can't seem to get Edge's job title straight. This former Coast Guard man may have come to the Carolina coast to escape his past and his own personal demons, but he is about to learn that solving this murder just might push him over the edge.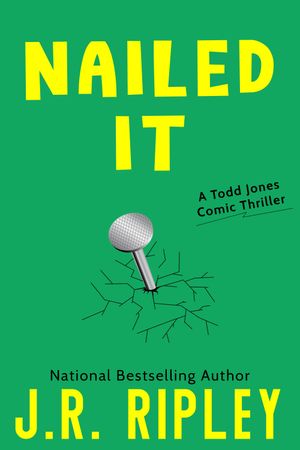 Headly Amazon Vine Voice
Florida Wacky World
The movie "Weekend at Bernies" jumps to mind but actually this story is much more beautifully written to include hustlers, cheats kidnappers and buffoons all trying to make the most ill gotten gain possible. And there is a pig too.
Laugh out loud funny and way too close to actual Florida antics not to think how this might even hint at real life ( naw-- it's fictional, right?). Outstanding !!!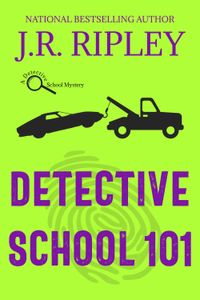 Amazon Vine Voice
South Florida silly....but very good
With a cast of crazy characters you could only find in Florida this is one exceptionally nutso ( ..an actual word). James Stewart ( no, not the actor) is on his way to living in a cardboard box unless he can secure employment. So he eventually decides to become a ...detective. That was his first mistake. His second mistake was getting accused of murdering the owner of a tow truck company ,who by all accounts, had Mr. Stewarts car dragged off for illegal parking.
From here we watch as James decides to prove his innocence by tracking down the actual killer himself armed with one detective school lesson under his belt.

This zany romp has everything you need to have a good laugh without having to worry about foul language or steamy sex scenes.... this is all about fun !
Another great read from J R Ripley!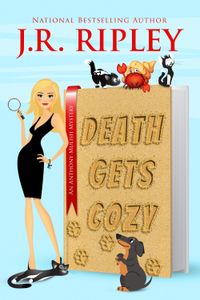 Dawn Greenfield Ireland
Hands down fabulous!
That JR Ripley knows how to tell a yarn! Ripley created a cast of characters and situations that were laugh out loud crazy. Almost unbelievable, but so fresh from the typical drivel of the cozy genre. Thanks big bunches for such an enjoyable read.
Booking A Killed Vacation
I loved this book. Since I live in South Carolina and have been to Myrtle Beach many many times. This book held my interest so much that I could not put it down. I. could never figure out who the killer was. Would highly recommend it to everyone.
Barb G
Best book I've read in awhile
I have not finished the book. On chapter 21 out of 36 chapters but I'm loving it. Have chuckled and also had a few tears. I don't want to be a spoiler so I'll just tell the beginning. A dying man asks a woman 10 years younger than him (She's 29 if I remember right.) who he just met the night before to marry him and be his companion (platonic) til he dies and sets up a contract and pays her to do it because his family and friends show thier worry about him and her not knowing him doesn't have those feelings. That's it from me. You'll have to read the book to learn more.
Diana
Deserved the best. Very entertaining. I had no idea who the killers were until the very end. I was surprised. I laughed at the quirks of the characters. Fun read. Looking forward to reading more of your books.👍👍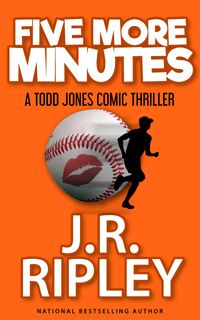 Who's zooming who?
"As Oliver Hardy used to say" well...here's another nice mess you've gotten me into ". As a former RE guy myself luckily I have never encountered such a obvious set up, but Todd had his thinking mind disconnected when the knockout babe started talking big money. From there it rolls downhill quickly and actually picks up considerable speed at the ending. That all this conniving takes place in South Florida is no surprise...But makes it easier to digest. The love for money is the root of all evil and the roots go very deep in this story. Great characters brought to life by great and humorous writing (as usual) in any JR Ripley story. I loved Todd's mom...what a hoot....and the addition of Mr.Squeals was icing on the cake. Another triumph!"
Eddie D - Amazon Vine Voice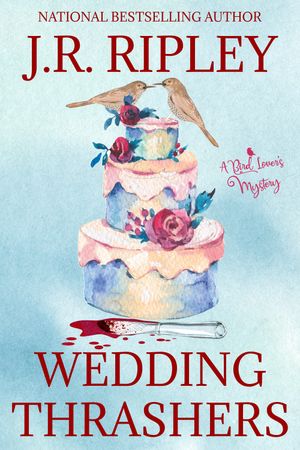 Kelly Knapp - Amy is Getting Married!
Amy is getting married! But which Amy? Doesn't really matter because the groom gets murdered just minutes before the ceremony.

I don't know much about birds but Ripley had me giggling within pages and then throughout the rest of the story. The protagonist is smart but takes too many chances, which gets her into a lot of prickly situations. Non-stopped fun!
Kirk- Excellent
This is a great addition to the series. It ends on a cliffhanger and I cannot wait for the next adventure. I love the characters and the descriptions of the birds and their birdsongs are wonderful.
Amazon Customer - Kept me guessing!
Enjoyed the book. It was entertaining yet had a good plot and didn't let you in on who the real killer was to the very end. Worth the read!!
---
Please check out Glenn's other books, written as Glenn Meganck, Glenn Eric, J.R. Ripley, Marie Celine, Nick Lucas and more!